I have to admit, I got a little lazy...........
I painted the fabric on the chair. I know what your thinking, it's not that big of a chair and very easy to reupholster. The reason why I painted it was because I had found this chair that I loved on
anthropoligie.com
, hand painted coated cotton canvas by an artist in Como, Italy for $980.00. I love furniture, but for that amount I would rather have a new camera, computer or even diamonds.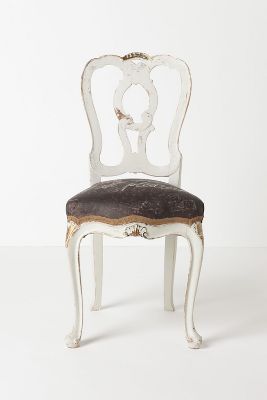 So, I had this free chair sitting in my basement, and I said, what the heck, why not if
I ruin it I will just reupholster it. Seeing how ASCP sticks to anything it was by far the best choice.
I just starting slapping on the paint, thinking it was going to be horrible,
and that I probably just made more work for myself.
I used clear and dark wax and buffed like crazy. Chalk paint is some pretty amazing paint. I tried everything to see if it would, rub, scrap or chip and nothing. I even let my son sit in the chair while he played xbox live, and nothing.....
I used Old White on the body of the chair,and I added some gold to the studs.
I don't know what to think about the painted fabric chair?
If you are ever curious as to where I get my fabulous Annie Sloan Chalk paint and Miss Mustard Seed Milk Paint, click here, Patty at Classic Wall finishes is the BEST, not only is she a retailer for both paint lines, she has many, many years experience in the painting world and provides all her
customers with outstanding service, she is sooooo worth the click!